Though practical and functional, shelves and bookcases are also a decorating goldmine! Read on to discover how to maximize storage while adding a touch of style for a guaranteed wow factor. Without further ado, let's look at how to style our shelves!
What to put on our shelves?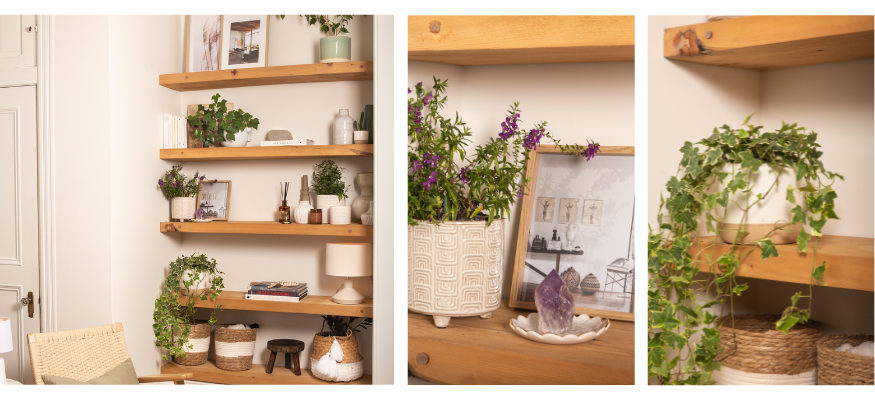 Styling shelves can quickly become a real challenge for many of us. To help you decorate your shelves, here is a list of items you might want to consider:

- Art pieces
Whether you're more the ornament, vase or canvas type, art pieces are always in style when it comes to decorating shelves or a bookcase. Showcase your favourite paintings and canvases by installing small lights on your shelves.

- Books
Books on a bookshelf? Who would have thought! Nevertheless, you can still add some flair by arranging books in rainbow order or alternating vertical and horizontal stacks to create an interesting visual flow!

- Plants
Real or not, plants and flowers will add a touch of life and colour to your shelves. Consider choosing hanging varieties for the perfect organic look.

- Mementos
Mementos shouldn't be buried inside a box in the basement. Honour your memories by proudly displaying them on your shelves or bookcase.

- A mirror
When it comes to decorating, shelves and mirrors are a dynamic duo! Mirrors with unique shapes can easily add interest to a space. Mirrors can also have a big impact in smaller spaces, such as in an entryway or at the end of a hallway, by creating the illusion of size.

How to create that wow factor ?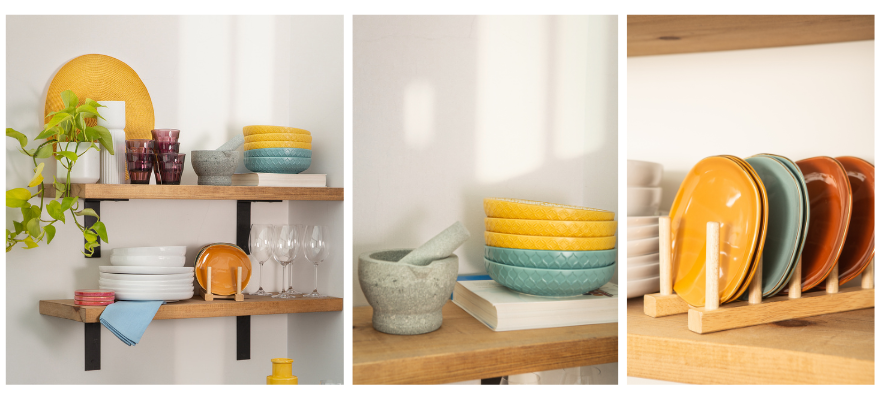 Now that you have an idea of what to put on your shelves, how should you arrange everything? Shelves are an extension of a room's design. Choose items in the same hues as your decor when deciding how to style your shelves.
To give your shelves character, have fun with different textures for your decor, such as wood, ceramic, glass, metal, wicker and more! To create movement and depth on your shelves, play around with different heights, shapes and sizes. You can also reproduce this effect by following the "rule of three," meaning by grouping three different decor items to create a whole, like in the image below.
Beautiful and functional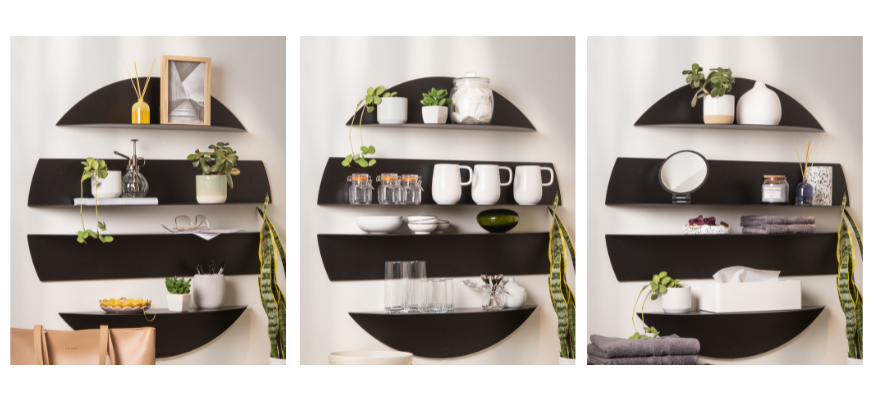 As a professional organizer, I am always looking for new ideas for maximizing space. In my opinion, shelves can serve as both decor and storage. For example, why not try an amazing basket to conceal everyday items like remotes, cables, phone chargers and other electronic equipment? This not only makes it possible to hide less aesthetically pleasing items, but also keeps you from constantly having to track them down!

Dishware and food in plain sight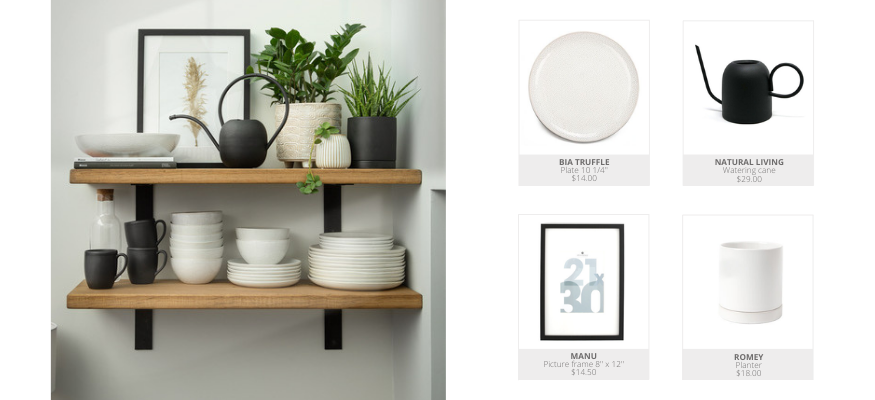 Open storage and shelves are growing in popularity in kitchens. They are a great way to display beautiful dishware and fancy glasses or, conversely, to store everyday dishware for super easy access. Cookbooks are another great feature on shelves. You can also use shelves to create a cozy coffee nook with your favourite mugs, syrup bottles and coffee in a pretty container. For a "farmhouse" look, try storing your dry goods, like pastas, grains and cereals, in gorgeous glass jars. On top of adding some character to the room, it will make it much easier to manage your supplies! No matter what you decide to add to your kitchen shelves, it's important to choose what you want to display carefully considering the oils and dust that can accumulate over time.

Last word:
To enliven your spaces, why not change up the decor on your shelves according to the
season? Simple little thematic additions will make all the difference!