Thanksgiving is a cherished holiday that brings friends and familytogether to celebrate gratitude and togetherness. Beyond the delicious turkey and pumpkin pie, it's also an opportunity to showcase your creativity and hospitality through tablescaping—the art of designing a stunning and inviting table setting. This Thanksgiving, let's explore the world of tablescaping and the art of hosting to create a memorable and visually captivating feast for your loved ones.
1. Setting the Scene: Choose a Theme
Before you start setting up your Thanksgiving table, it's essentialto decide on a theme or colour scheme. Whether you prefer a rustic, traditional, or modern look, having a theme in mind will guide your decorating decisions. Common Thanksgiving themes include:
Harvest Bounty: Embrace the colours of fall with earthy tones, dried leaves, and gourds.
Rustic Elegance: Combine natural elements like wood and burlap with metallic accents for a cozy yet refined atmosphere.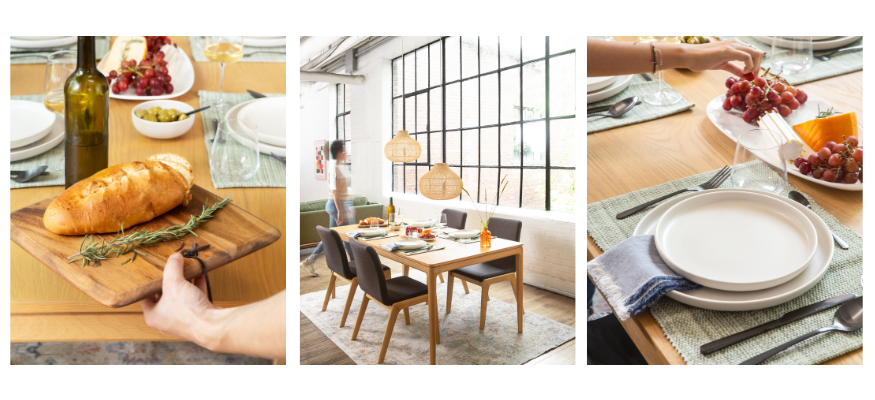 Modern Minimalism: Opt for clean lines, neutral colours, and simple tableware for a contemporary twist on Thanksgiving.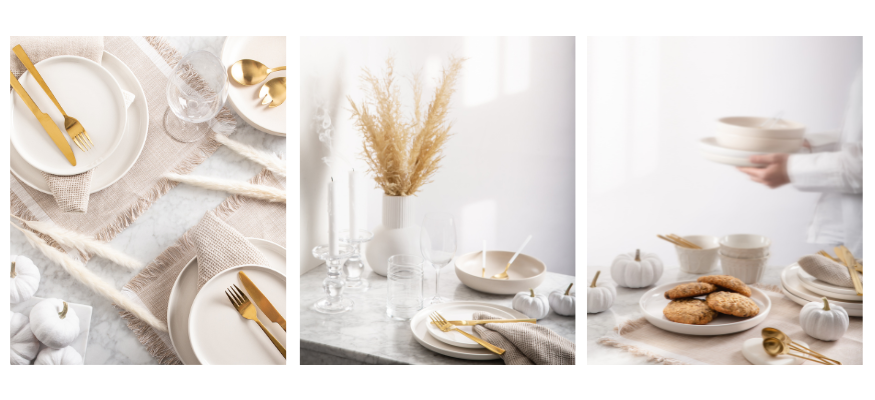 2. Start with a Solid Foundation: The Tablecloth
The tablecloth or table runner serves as the foundation for your tablescape. Choose one that complements your chosen theme and colour scheme. For a rustic look, consider a burlap runner, while an elegant lace tablecloth can add a touch of sophistication.

3. The Essentials: Place Settings and Dinnerware
Ensure each guest has a designated place setting with the following essentials:
Dinner Plates: Use chargers or large dinner plates as the base layer.
Flatware: Set utensils in the order they will be used, from the outside in.
Glassware: Provide water and wine glasses.
Napkins: Fold napkins creatively or place them under the cutlery.

4. Creative Centrepieces: The Focal Point
The centrepiece is the star of your table. Depending on your theme, consider these ideas:
Floral Arrangements: Create a stunning bouquet of seasonal flowers and place them in a rustic vase.
Candles: Light up the atmosphere with candles in varying heights and sizes.


Pumpkin Display: Hollow out pumpkins and use them as unique vases or candle holders.
Fruit and Greenery: Arrange fruits like apples and pears with greenery for a fresh, organic look.
5. Personalized Place Cards
Make your guests feel special with personalized place cards. You can use mini pumpkins, decorative leaves, or even write names directly on the plate. It's a small touch that adds a personal connection to your table.
6. Ambient Lighting
The right lighting can set the mood for your Thanksgiving dinner. Consider string lights, lanterns, or candle sconces to create a warm and inviting atmosphere. Dim the overhead lights to enhance the cozy ambiance
7. The Final Touch: Table Accents
Complete your table by adding small decorative accents that tie everything together. This could include
Table Scatter: Scatter fall-themed confetti or small ornaments.
Table Linens: Add cloth napkins, table runners, or placemats for texture and colour.

Remember that the key to successful tablescaping and hosting is to keep it genuine and true to your personal style. Thanksgiving is
about coming together and expressing gratitude, and a beautifully set table enhances the experience for everyone. So, embrace your creativity, design with love, and let the art of hosting shine this Thanksgiving.