A rug is an accessory like no other when it comes to decorating a room. On top ofproviding a feeling of comfort under your feet, it will add a new texture, colour orpattern to your floor space. That makes it an essential component in complementingyour decor by giving it a more "finished," warm and welcoming feel. Here's how tochoose among the many styles, sizes and textures of rugs at Zone Maison and a fewtips for styling them in your home.
1. Just the right size
While smaller rugs can serve a more utilitarian function (think welcome mats and bathrugs), area rugs are great for blocking off a space. That's why it's important to choosethe right size of rug for your room.
Below are a few standard rug sizes and how to style them:
Small rugs
24" x 36" or 27" x 45"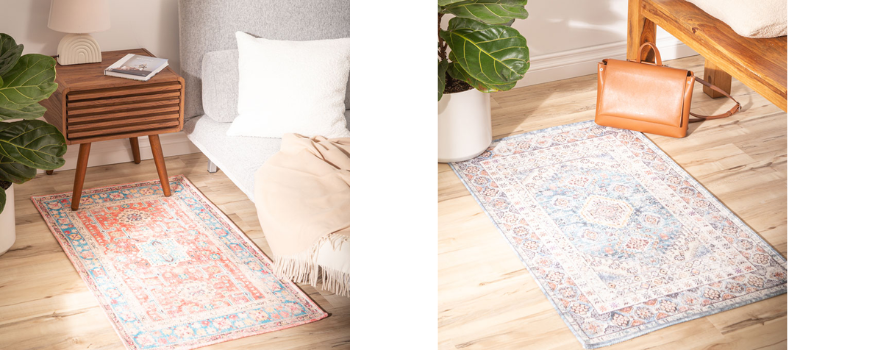 Rugs measuring 2 by 3 feet (or similar) can be very decorative and practical in the bathroom, kitchen or entryway. Small bedside rugs on both sides are another popular choice.
Medium rugs
36" x 60" or 48" x 72" or 63" x 91"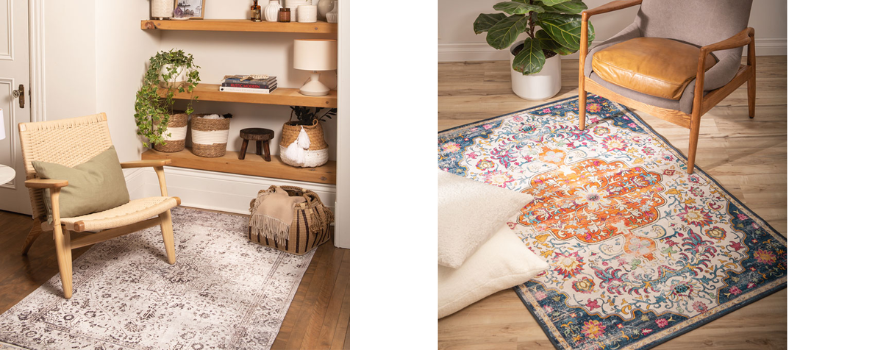 Medium-sized rugs, measuring 3 by 5 feet, 4 by 6 feet or 5 by 8 feet (or similar) are ideal for small living rooms, offices or large entryways. They can be used to define a corner, such as a reading nook in a living room or bedroom.
Large rugs
91" x 126" or 94" x 126" or 94" x 130"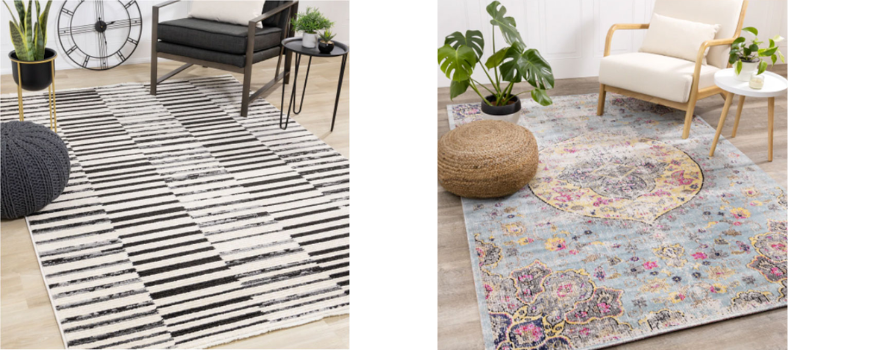 Rugs measuring about 8 by 10 feet are generally used in standard-sized living rooms orunderneath a bed or desk. They help to delineate the area in front of sofas and armchairsand create a warm atmosphere.
No matter what size you choose, keep in mind that it's ideal to leave 2 or 3 feet aroundthe edge of the rug so it can serve its purpose of defining a particular space.
Let's talk layering
In a very large living room or bedroom, you can try layering rugs to cover a larger surface. Don't be afraid to mix rugs with different patterns in similar palettes, which can make a real style statement.
2. Choosing colours, textures and styles
If in doubt when choosing the accent colours of your rug, remember the 60-30-10 rule. According to this well-known design formula, 60% of a room is often decorated in a dominant colour (usually white or a neutral tone), 30% with an accent colour and the remaining 10% with accessories.
You can therefore choose the colour of your rug based on the three main colours inyour decor. The colours of the rug can even be a starting point for choosing the colours to feature in your decor!
- For a minimalist or more classic decor, you can accentuate a dominant colour or opt for a rug with more muted tones;
- For an eclectic or colourful decor, you can choose a secondary or accent colour and go for more vibrant tones.

The patterns in the rug can also accentuate your decorating style.
- Neutral rugs work with any style;
- Rugs with geometric and abstract designs work well in contemporary or vintage interiors. Some tribal designs are reminiscent of Berber rugs and are a great match for a boho or Japandi style;
- Persian-style ornamental rugs elevate a classic, farmhouse or vintage decor. One of the great decorating trends, retro Persian rugs (with muted colours) pair with any style.

Lastly, the texture of the rug plays a big role in the style of your room. Texture isn't just about comfort under your feet. It also contributes to adding warmth to your decor and prevents a monochrome decor from becoming monotone. For example, some boho interiors make great use of textures while sticking to a neutral palette.
3. Balancing comfort and maintenance
In addition to style, choose your rug based on the comfort you're looking for and the traffic it will receive. Have multiple children? Pets? No problem. All of Zone Maison's rugs have been selected with maintenance in mind.
High-pile rugs provide unparalleled comfort. Made from synthetic (polypropylene) fibres, they are also resistant to stains and moisture, are hypoallergenic and won't fade in the sun.
Cotton rugs (or a cotton and wool and/or polyester blend) are also soft on the feet, ideal for nooks in children's rooms or bedside and are easy to clean.
Polypropylene low-pile rugs also offer a good balance between comfort and maintenance and are easy to clean using a vacuum with rotating brushes and, if needed, a shampoo. Several models are machine washable in cold water.
Finally, vinyl rugs are an excellent low-maintenance option that will add some style to any room.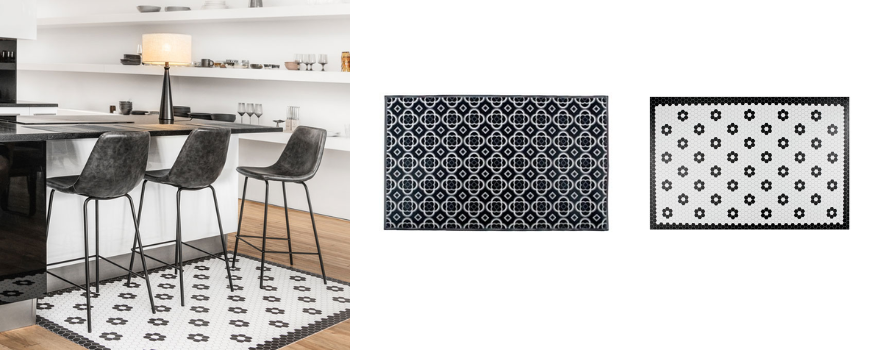 4. Additional tips for choosing a rug
What advice would Stéphanie, interior designer, give to help you choose the right rug?
In the entryway
Opt for a pretty doormat outside and a vinyl rug inside. Choose a large enough size for everyone to take off their winter boots without getting salt and dirt on your carpets and floors.
In the living room
In high-traffic areas, it's a good idea to look for darker, beige or earthy tones for your rug. Also consider rotating your rug every six months to ensure it receives even wear.
In a small living room, all four feet of armchairs and sofas should be on the rug, or at minimum the front two. In a large living room, opt for a large rug that will cover as much space as possible to avoid visually shrinking the space.
In the dining room
A rug under the dining table goes a long way to elevating the style of your dining room.
However, for best results, all four feet of the chairs should sit on the carpet. Something to keep in mind!
In the bedroom
Resting your feet on a cozy rug when you get out of bed in the morning is a real joy.
However, be careful not to choose a rug that is too small. A good option is to slide a large rug about halfway under the bed.
In a children's room, you can play with fun and colourful designs or, on the contrary, choose a more neutral option that will grow into adolescence with your child.
Runners in the kitchen or bathroom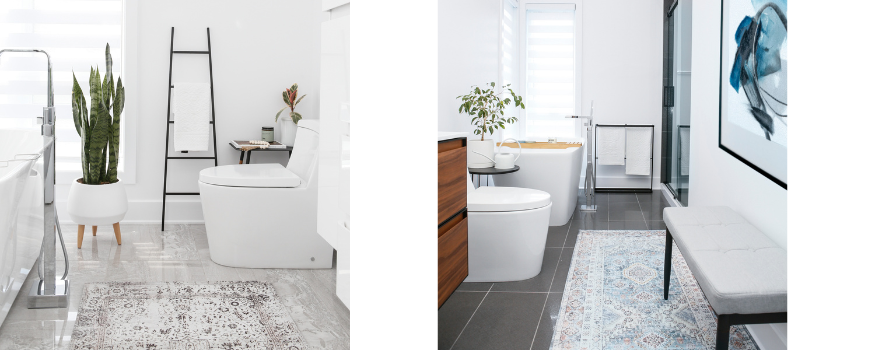 In the kitchen or the bathroom, runner-style rugs are a great way to add warmth, especially if your cabinets or floor are understated.
Their linear design makes the room seem longer and draws the eye to a focal point (such as a window). All runners are non-skid and machine washable, making them a sensible choice!